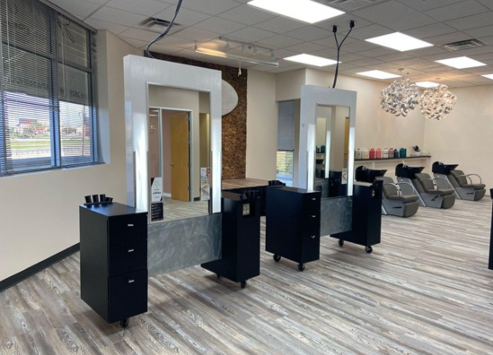 We've got news—Sparrow House, our new advanced salon academy in South Texas, is opening its doors this month! A 12-week tuition-based program, Sparrow House focuses on educating licensed cosmetologists on advanced techniques.
Both new artists and industry veterans can refresh skills and renew passion for their craft while taking Sparrow House's curriculum, which includes:
Advanced cutting and color techniques

Extension applications

Social media marketing and branding

And more!
Sparrow House "provides upper-level advanced education that we feel has been lacking in the industry," says Beckie Alborn, Director of Education. "The need is apparent in students who participated in virtual learning. This program piggybacks off of their training program and gives an extra dose of skill development. For veterans, it's a refresher—but it's also about remembering their passion."
Located in the heart of San Antonio, Sparrow House features small classes and an operating salon floor where guests and models can experience a dynamic salon environment. Program graduates are guided toward employment opportunities. "Working with educators who understand their strengths and weaknesses provides a unique opportunity to find the best fit for that stylist," Beckie says.
Sparrow House's roster of educators includes renowned industry professionals including Neill Color Educator Beckie Alborn; Aveda Cutting Educator and New York Fashion Week stylist Cassandra Pena; and Master Stylist & Texture Specialist Monica Hayes.
Need more info? Contact Beckie Alborn at beckie@sparrowhousesa.com or give us a call at (210) 318-2825.
Comments