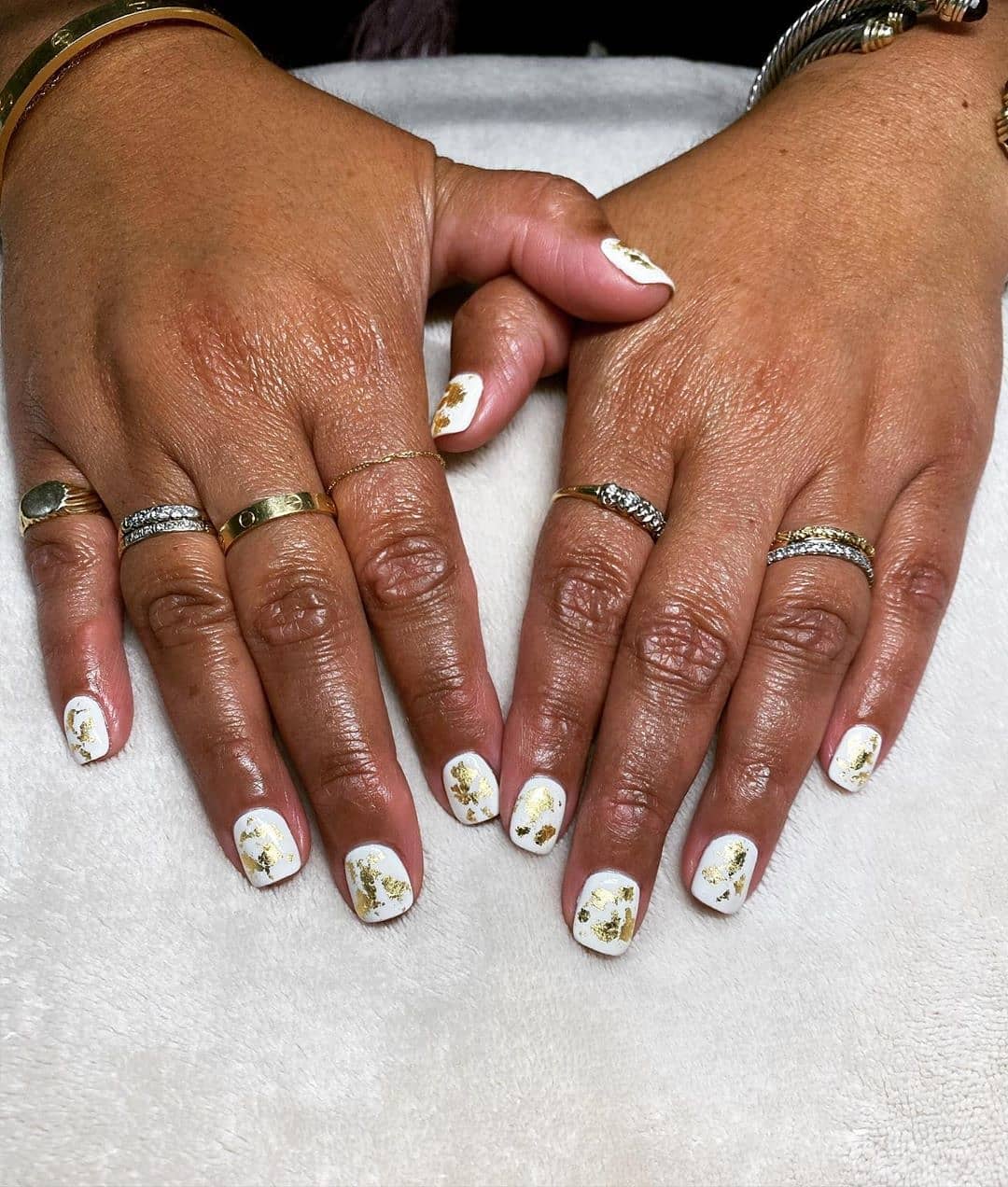 If there's one thing COVID-19 has taught us, it's to appreciate those hands! If you're anything like us at K. Charles & Salon Syzygy, the best salons in San Antonio, TX, odds are you're starting to see the adverse effects all that hand-washing has on your hands. (Hello, Hand Relief!) Sore hands, however, are a small price to pay in the fight to halt the spread of the virus in our community, and we're not planning on stopping any time soon. The good news? Our talented nail technicians at our Alamo Heights location are here to bring life back to those lovely hands of yours. Read on to see the five nail looks we're dying to try out this fall!
View this post on Instagram
Golden Girl
Some gold flakes can elevate a manicure from basic to boujee in a matter of seconds. Feel free to explore with your base color here; there are NO wrong answers when it comes to adding a little golden goodness to your manicure.
View this post on Instagram
Geometric Chic
Geometric nail art is nothing new—but that doesn't mean that our love for this nail trend has subsided, and we can't get enough of this minimalistic design by our nail technician, Kayleigh. If you're unsure of what design/color you'd like to go for, we recommend scouring Pinterest for some seriously chic inspiration to bring into your next appointment with us.
View this post on Instagram
The French Mani
Oui oui, mon cherie! A classic that we'll never get tired of: the French manicure. This lovely look is a twist on the French manicure, and we can't get enough of it.
View this post on Instagram
Party Animal
Feeling a little wild? Us too. Take the animal print trend to the next level by incorporating cheetah print, or any print for that matter, into your next mani like this client did.
View this post on Instagram
Reverse French Mani
Again, a French mani, but with a twist! As seen all over the SS20 catwalks, the reverse French mani is a refreshed take on the classic that we can't get enough of. Spice things up by picking out fun, bright colors, or keep things chic with neutral tones like the look above.
Ready to get those nails popping? Request your appointment with us at our Alamo Heights location here.
Comments