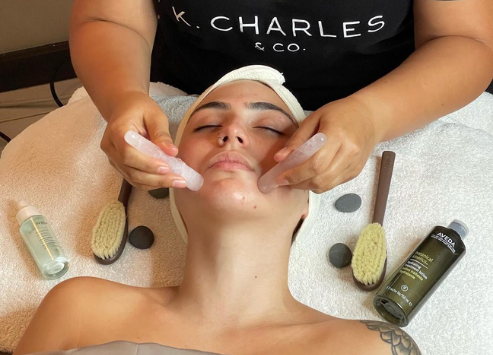 What's on our bucket list this fall? Prioritizing self-care! To get a jumpstart on some TLC, we asked Sylvia, an esthetician at our Alamo Heights location, about the wide variety of esthetic services offered at K. Charles. Here are two ways you can put your best face forward this fall.
1. Start with brows that wow.
Sylvia: Brow lamination helps keep the hair in place while resulting in a fuller, more even look. The results are amazing! Brow Henna, on the other hand, is a plant-derived tint that temporarily stains the skin while darkening the hair. This is a great service for someone looking for richer color and to fill in the sparse areas of the brow.
2. Take advantage of K. Charles' many facial services.
Sylvia: There's a facial for everyone! Some services that we offer include:
Aveda Tulasara Facial: All about balance. Great for first facials or for general upkeep.
Aveda Botanical Resurfacing Facial: A natural alternative to microdermabrasion.
Aveda Perfecting Plant Peel: A great peel for all skin types.
Aveda Dual Exfoliation: A combination of the Botanical Resurfacing Facial and Plant Peel.
Aveda Plant Stem Cell Facial: Focuses on immediate hydrating, luminizing, or pore refining. Includes a customized face & neck sheet mask and a vitamin C-infused gemstone wand massage.
We also offer facials with more active and robust treatments:
Dermaplaning: Removes top layer of dull, dead skin cells to immediately produce a smoother, brighter complexion.
Diamond dermabrasion: Gently sloughs off dry, flaky skin and debris and can clear pores with suction. With consistent treatments, it can also improve the appearance of dark spots, fine lines, and scarring.
Chemical peels: Exfoliates skin with alpha hydroxy and/or beta hydroxy acids. Improves the appearance of discoloration, fine lines and wrinkles.
Ready to glow? Browse our services here and schedule your appointment online.
Comments