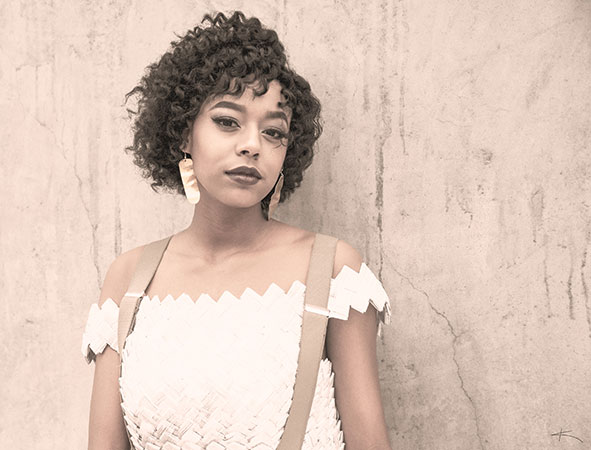 Oh, curly, textured hair—we get it. It's a love-hate relationship. Sometimes you love the volume and that naturally added something-something. For the best advice around, we took it to Monica Hayes from Salon Syzygy for all the do's and don'ts when you're feeling less than fond of your coils and curls. With the right touches and a little TLC, you might consider parting ways with your straightener—for good this time.
MOST DEFINITELY, DO:
Detangle hair from end to scalp with a wide-tooth comb to prevent breakage.
Section hair to distribute product evenly—like Aveda Be Curly Intensive Detangling Masque to detangle, add moisture and separate the most tangled of curls with ease.
Use a satin cap or satin pillowcase to help keep moisture in your hair. Cotton can actually pull moisture from your hair and cause dryness. We'd recommend adding a few drops of Dry Remedy Oil before bed for shinier, more moisturized hair.
Use a leave-in conditioner—it adds moisture and defines curls.
Deep condition at least once a week. Curly hair can be naturally brittle due to lack of moisture—and deep conditioning on a regular basis will restore moisture and ultimately strengthen your hair. For color-treated hair, we love the Damage Remedy Intensive Restructuring Masque—and for those that don't have color-treated hair, we'd snag the Dry Remedy Intense Moisturizing Masque.
WE'D RECOMMEND YOU DON'T:
Use a brush to detangle hair. (A wide-tooth comb works best!)
Shampoo hair daily. The curl patterns found in curly hair make it hard for the natural oils from your scalp to work its way down to your ends. Aveda Be Curly Shampoo and Conditioner is filled with essential oils to leave even the curliest of coils with moisture.
Use too much heat. Overuse of heat tools may cause permanent damage to your curl pattern, or cause breakage. Should you decide to straighten your hair, always remember to use a thermal protectant to minimize heat damage—like Aveda Smooth Infusion Style-Prep Smoother.
Use a towel to dry hair. Instead, use a cotton t-shirt or microfiber towel to absorb water and keep frizz to a minimum.
Cut your own hair. Find a curl expert to cut it! Not only will you get better results, your expert stylist will be able to show you different techniques for styling your seemingly style-less hair.
Want to learn more about how to keep your mane in check? Head over to any of our San Antonio, Texas locations or book your appointment online.
Comments