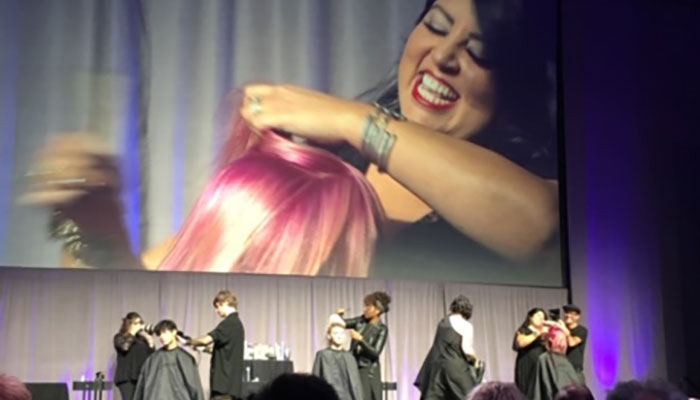 As one of the best salons in San Antonio, we are proud to have team members who are consistently pushing themselves to grow, learn and soar in this ever-evolving industry. One example of this is Cassandra Pena, who wears many hats: Aveda Cut & Style Purefessional, Aveda Certified Color Educator and Master Stylist and Colorist here at K Charles Salon and Spa in San Antonio for over twelve years (to name a few).
Recently, we are incredibly proud that Cassandra was one of just six US stylists chosen to participate in the Aveda Global Jam to kick off Aveda Congress 2018. She rocked a technical performance on stage and created a disconnected pixie look featuring the exclusive Aveda Congress Pink hair color by Ian Michael Black. On top of that, she was also asked to assist the legendary fashion and editorial hairdresser Nicolas Jurnjack from Paris who was the Aveda Congress special guest. Simply put: Cassandra is KILLIN' IT.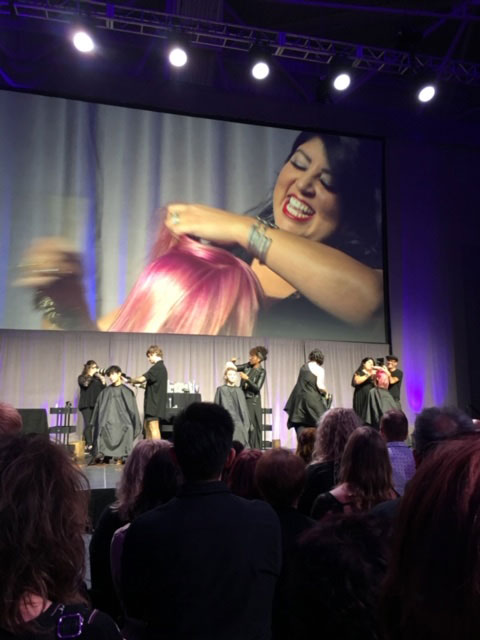 We sat down with her to ask some questions about her experience to share with you all.
What was your favorite part of Congress?
It's always been a dream of mine to be on the Aveda Congress stage and making my debut in conjunction with the 40th anniversary of Aveda and seeing my picture and name up on stage was a total dream come true- the icing on the cake was having so many of my K Charles Salon and Neill/Aveda family members there supporting me and cheering me on!
Who is inspiring you right now?
Ricardo Dinis, the Aveda Global Artistic Director for Haircutting. Not only is his technical skill out of this world and I learn something every time I watch him cut, but he's an amazing human being with a fantastic creative eye and a passion for learning and teaching others. He's a wonderful mentor who always has time to share insights and advice to help others better themselves and I've grown so much as a stylist and educator because of him.
What was your favorite outfit at Congress?
A set of 5 little black dresses made by Heggy Gonzalez, an uber-talented Aveda educator, stylist, colorist, makeup artist and clothing designer. She actually made the pantsuit my model wore in the Aveda Global Jam and also created the dresses for the Inspire Aveda Institute segment, 5 of which she cleverly designed the letters that spelled out AVEDA as a little hidden design treat. So creative and stunning!
What was the biggest takeaway?
I was reminded how amazing it is to be a part of this awesome Aveda tribe and how much good for the world can come out of a shared passion for beauty, wellness and a commitment to environmental leadership and responsibility. I'm so proud to be a part of Aveda and the partnerships we've made all over the world. It's like Barbara said: "Other companies have products, we have a philosophy."
Inspired to book with Cassandra? Book online or give us a call at 210-403-0955.
Comments